There might be affiliate links on this page, which means we get a small commission of anything you buy. As an Amazon Associate we earn from qualifying purchases. Please do your own research before making any online purchase.
Have you ever wondered what Thanksgiving would look like in the meme era?
Thanksgiving is a time to gather, reflect, and share gratitude with those we hold dear.
But amidst the heartfelt moments, there's always room for a side dish of laughter to make the holiday even better and brighter.
This year, we've compiled an irresistible collection of Thanksgiving memes that capture the essence of the holiday. From the early morning prep to the post-feast nap, these memes fill every moment with humor.
Grab your favorite slice of pie, settle in, and get ready to laugh your turkey tail off!
1. I'm at the corner…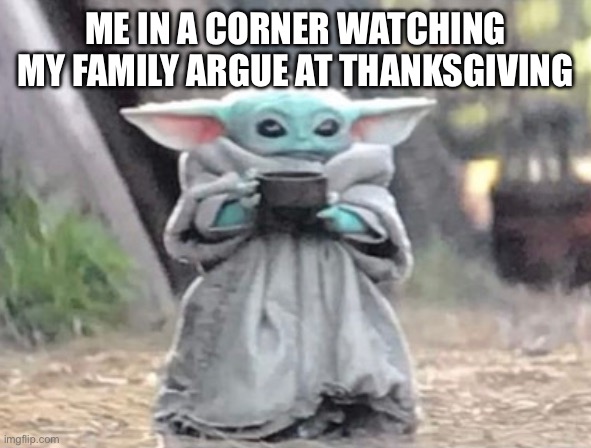 This isn't what we should be doing on a thankful holiday. Spare yourself the trouble and don't join the argument. Have fun watching instead.
2. Uhm…what's the next holiday?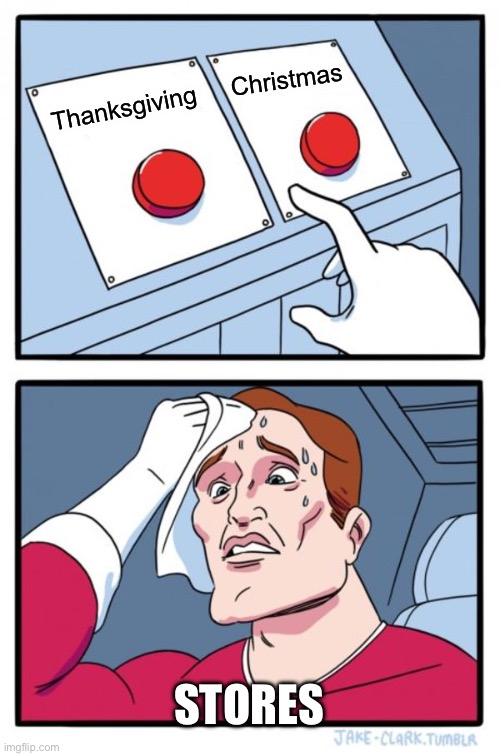 This is a very relatable meme, especially for those who are excited to go Christmas shopping, but who also love Thanksgiving. And don't even get us started on Black Friday!
3. Gru feels you.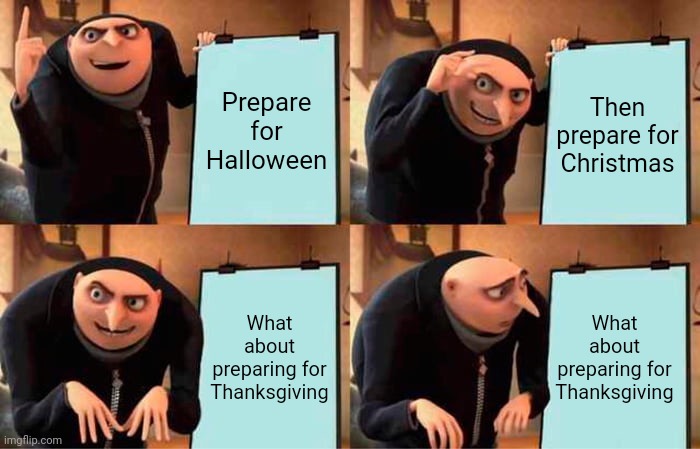 Indeed, what about Thanksgiving? Why don't we prepare for all three? They all deserve celebration.
4. Love and hate relationship.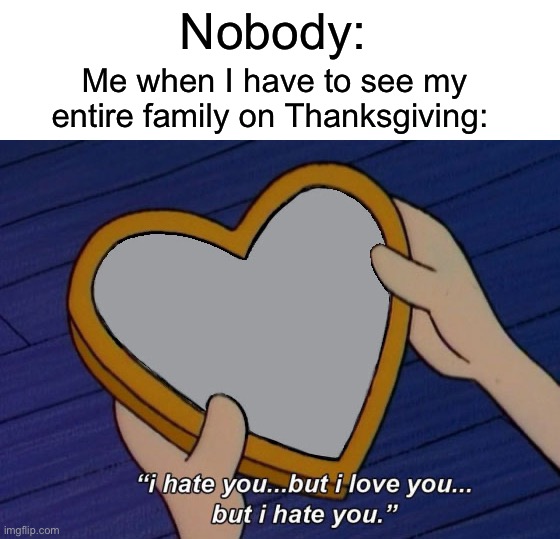 This is for all those with a love-and-hate relationship with their family. Don't get to mad at them over the Thanksgiving dinner table. After all, they are your family for life!
5. POV: You're the turkey.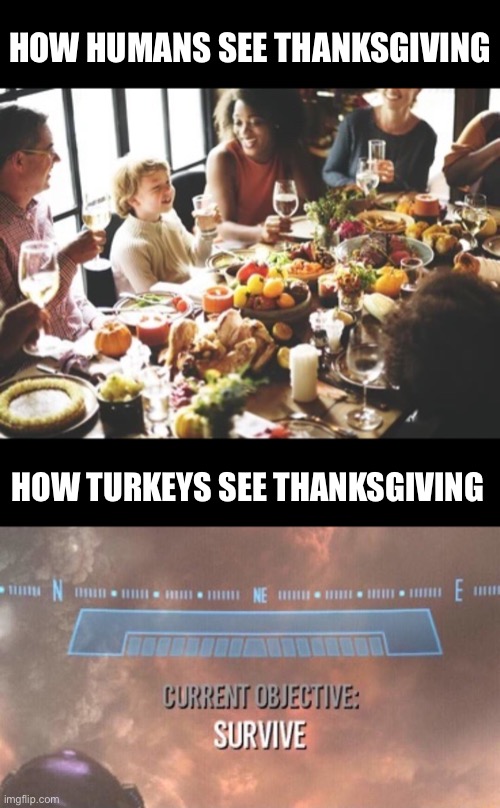 Have you ever wondered how turkeys feel when Thanksgiving comes around? It must be a terrifying time for them!
6. Oh, grandma!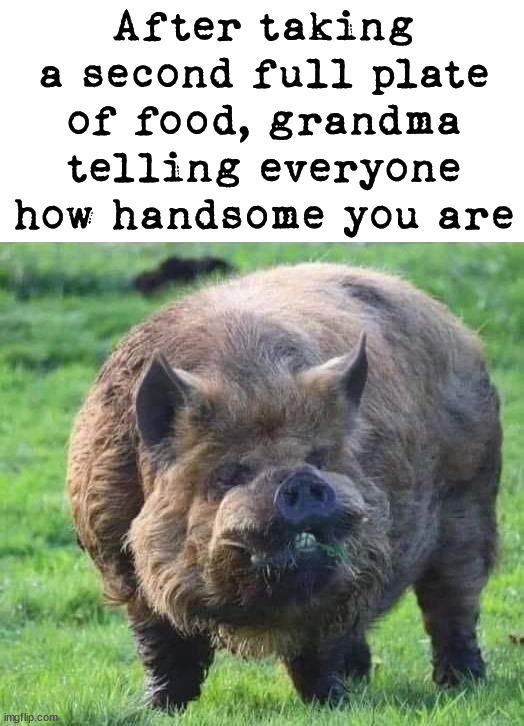 Thank you, Grandma! We can tell how much you love your grandson.
7. Such accuracy.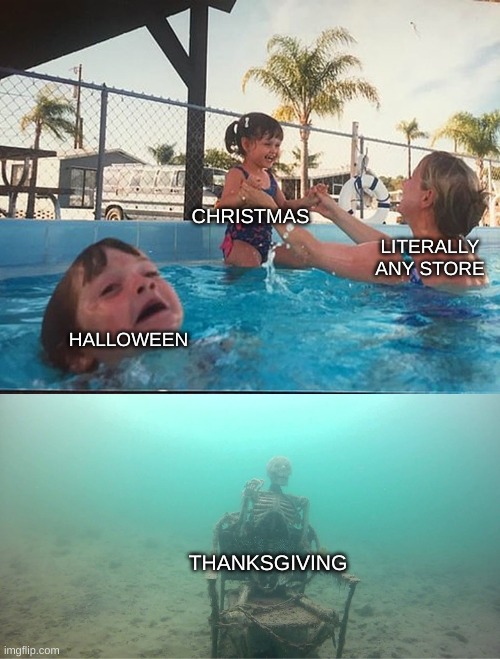 This is perhaps one of the most accurate memes you will ever see regarding Halloween vs. Christmas vs. Thanksgiving. Christmas is great, but don't forget that there are other holidays, too!
8. Sad story.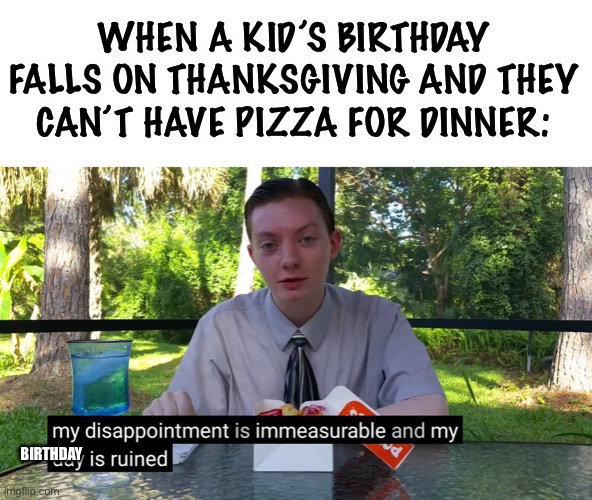 It's all right, kid. At least you get a pie and a turkey. Pizza can always wait.
9. Let the food come in!
Pigging out Thanksgiving is totally acceptable behavior! We are doing the same thing. Don't judge yourself!
10. Is it over yet?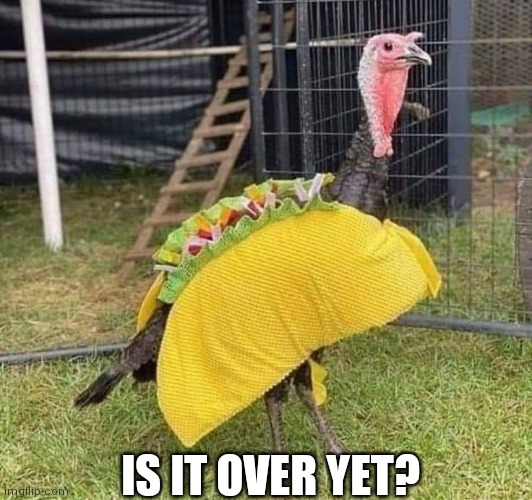 How smart is this turkey that turned itself into a taco to hide until the holidays are over?! Just make sure to take off the costume before Cinco de Mayo.
11. After Thanksgiving…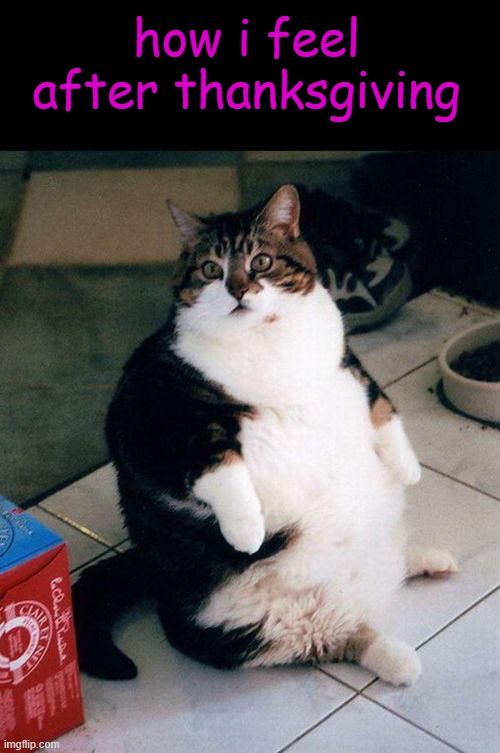 This is how we all feel after Thanksgiving. This cat is cute, but food is life. Don't let its appearance prevent you from eating whatever you want!
12. Tomorrow's the day.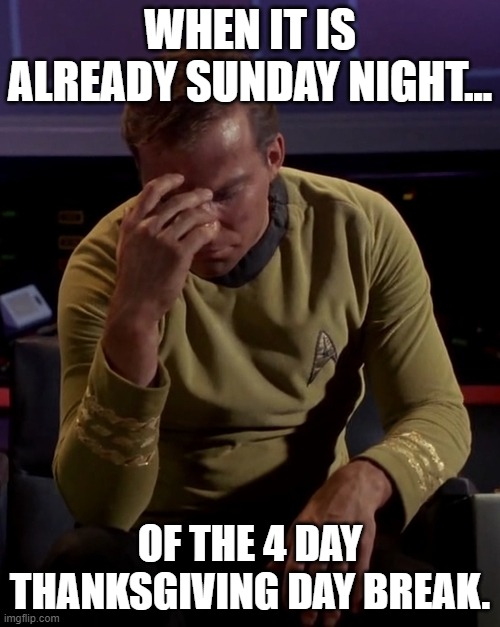 Are you done with your homework? Did you get everything done during the holiday that you wanted to do? Sad news, bro. It's the end of the break tomorrow. Time to get moving!
13. Christmas is here!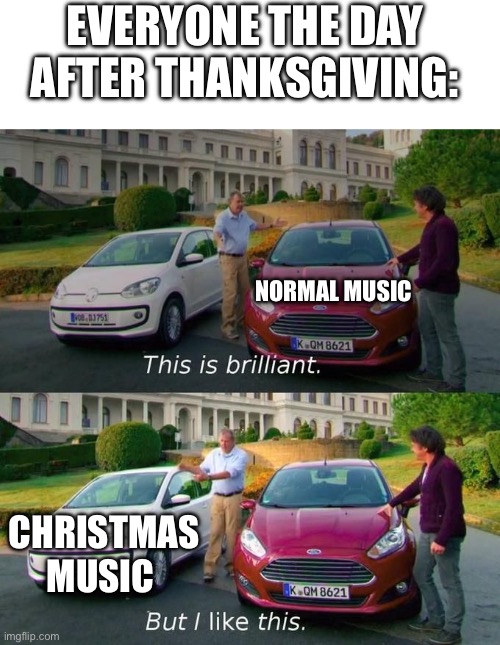 All right, we hear you. As soon as Thanksgiving is done, it's officially Christmas season. Get ready to listen to carols nonstop.
14. Give me five, cuz!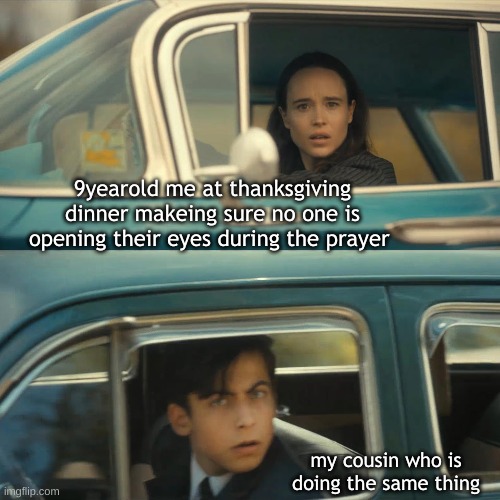 All of your young siblings and cousins do it! Guess that's one way to bond with the family!
15. Some families are…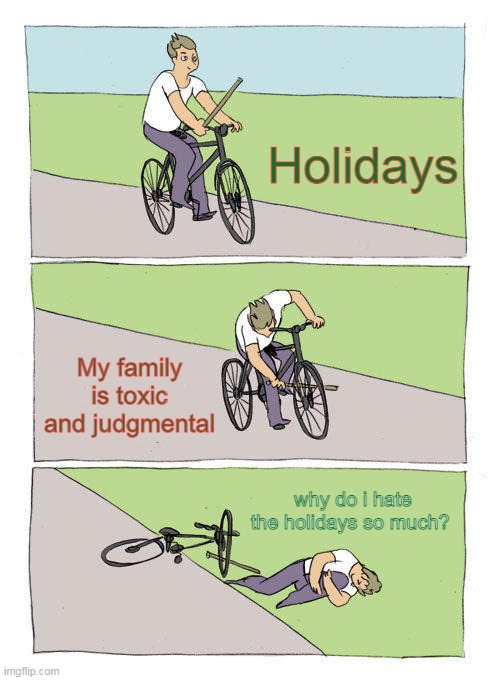 Holidays are a struggle for some people because they are not on the best terms with their families. Here's a relatable meme for them.
16. Who said I'm full?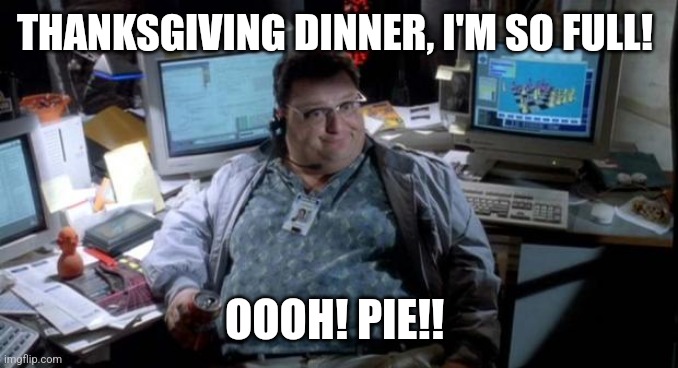 No one's truly full until they've eaten pie!
17. Please, stop.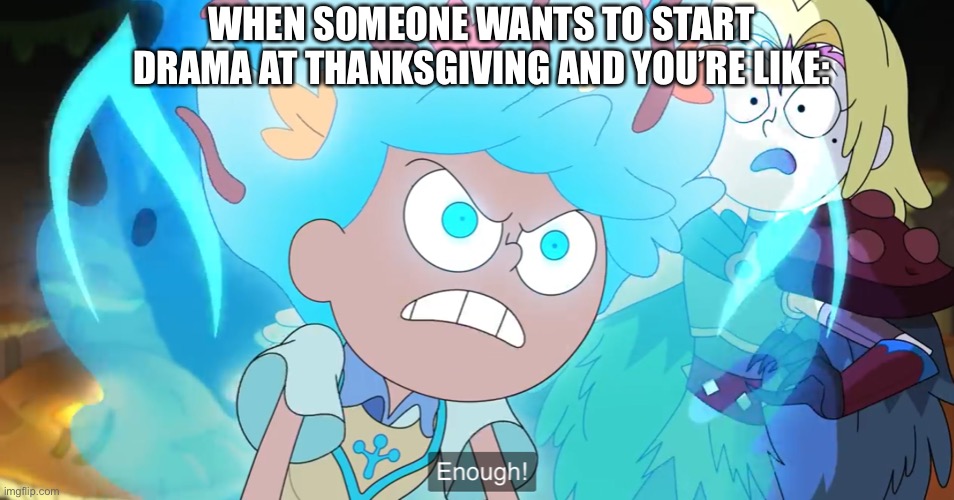 Some of the most heated arguments happen during Thanksgiving. Sometimes, you just want to tell your family to be quiet, cut the drama, and enjoy being together!
18. Parents be like…
Whether it's arguing with you and your siblings or other family members, your parents are working overtime to keep from ruining Thanksgiving!
19. This is you.
This is you, me, and everyone else after Thanksgiving dinner. Don't sweat it, bro. You're not alone. Together, we eat; together, we don't fit.
20. The choice is easy.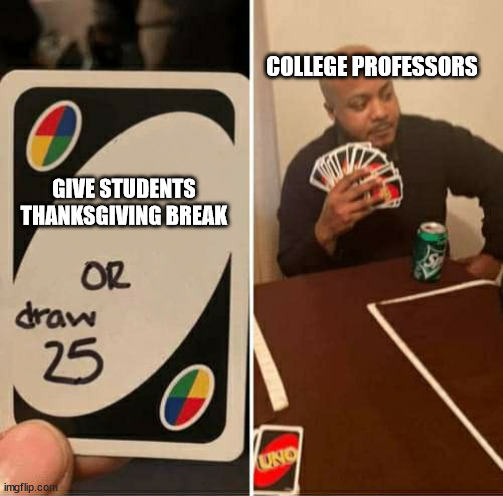 The choice is easy for professors, but the workload is never manageable for students. What can you do, though? That's how student life rolls, and you have got to deal with it.
21. Finally, an accurate tree.
If you ever hear someone in the family argue about Christmas, Halloween, and Thanksgiving, make it easy for them by decorating this kind of tree. Why not make everybody happy!
22. Leftover time!
Unless you have a big, extended family, you will have a lot of leftovers to take to school the day after Thanksgiving. Leftovers are actually what some people look forward to the most about this holiday!
23. But why?
Isn't it frustrating when you show up late on purpose so the food will be ready when you arrive—but it isn't! Maybe you should have showed up to help.
24. Burn!
As we said earlier, not everyone enjoys spending the holidays with their family. Some family members might try to bring you down, especially by attacking how you eat. Here's one way to get back at them—burn!
25. I am…hangry.
Imagine starving yourself all day so you can eat a lot for Thanksgiving dinner, and couple this with the fact that you had to travel a long way to spend the evening arguing with your extended family. You need your bird!
26. Spell C-L-A-S-S.
Keep it classy and sassy. You're here to enjoy yourself, yet your relatives keep asking about what you want to do with your future. Calm down, rockstar. Keep it cool.
27. I changed my mind.
This one goes out to all the single ladies and gents out there—this is why some of our aunts and uncles choose to remain childless. Kids are beautiful, of course, but you must admit it's hard to care for them.
28. Let the bird chill.
This is one of the funniest memes we have on our list. We know you are no cook, so…let Mom handle the cooking instead! Don't ruin the preparation. Just relax and chill.
29. Vegan, what?
Ok, no offense to vegans. We still love you! But you have to admit this one's funny.
30. Get out!
This is precisely how it goes when you are the older teenage brother/sister/cousin. Sorry, but you have to deal with it. Be patient, unless you want some heavy scolding from the elders.
31. But who cares?
Who cares about your size when you've got a Thanksgiving meal at the dinner table waiting to be gobbled up? This is why you came, after all! (Well, you came to give thanks—but also to eat.)
32. Love you, Grandma!
No one messes with the grandchildren in front of Grandma (or Grandpa!). Parents, aunties, and uncles, you need to stay back.
33. I can't see for today, Mom.
When you are all finished eating and the party's over, and Mom asks you to help her clean. I'm so sorry, Mom, but I can't see anything today!
34. Vibin' after Thanksgiving.
It's the day after Thanksgiving—of course you're super full and fully vibing.
35. I'm ready.
When you've prepared your own plate for the holiday…and you came well prepared! Where do you buy those plates? We need some, too!
36. Happy Thanksgiving!
What better way to say you are excited for Thanksgiving than to stick a turkey on your head? Send this meme to your parents and let them know you are ready to get fed!
37. Drooling eyes.
This is how we all look at Thanksgiving dinner. But before you eat, you have to tell everyone what you are thankful for!
38. Grandmommies, assemble!
You're lucky if your grandmother still cooks for significant events such as Thanksgiving. That means Mom is not going to ask you to help her. She has Grandma!
39. Are your pants ready?
We should all have a pair of pants custom-made for Thanksgiving (or any other eating season, for that matter). Are your pants ready?
40. What are you grateful for?
On a serious note, though, what are you grateful for? This is the day we give thanks for whatever we appreciate in life. Is your list ready?
41. Office scenes.
There's always one person in the office who doesn't care about the holidays—but there is also that person who cares too much about celebrating them. Which one are you?
42. Turkeys retaliate!
This meme is too real. What if turkeys could retaliate? Are you ready for their revenge?
43. A gift meme to send!
Here's a meme you can send to everyone in your life that you are thankful for. Make this holiday memorable for them!
44. Rollin'.
Everybody is rollin' after Thanksgiving.
45. Pie is indispensable.
You can choose not to eat all the other food, but Mom won't let you leave the table without eating that pumpkin pie. Pie is indispensable. Either you have a slice, or you can't come home for the next 10 years.
46. Eat all you can!
This meme perfectly portrays how we eat during the holidays!
47. Leftovers are the best!
We've already mentioned that, for some people, the leftovers are the best part of Thanksgiving. Eating the same delicious food the day after is just as good as any holiday!
48. Mom's inner thoughts.
Be honest. Do you help Mom prepare dinner during Thanksgiving? You can always help with the groceries and cleaning if you don't know how to cook.
49. Tell me, how?
Have you ever been invited to four Thanksgiving dinners? What a happy problem to have!
50. What's after Thanksgiving?
We know you are excited about the next holiday, too! What's after Thanksgiving? Oh, yes! It's Christmas time, and Santa's coming!
51. Where's that turkey?!
It's in the oven, so calm down!
52. Every day is Thanksgiving Day!
Shouldn't we give thanks every day? We have lots of blessings to be grateful for. While we all have rough days, we still need to thankful for life. Without those awful days, you wouldn't be as strong as you are now.
53. Best part of Thanksgiving.
The time you spend with your family and friends is the best part of Thanksgiving. The food is just a bonus.
54. We're home for Thanksgiving.
When someone sends you a chat or text asking about your plans for Thanksgiving, there's only one way to answer—send them this meme. We're home, we're giving thanks, and we are spending time with our loved ones. The end.
55. Hope yours was full!
Happy Thanksgiving, lovely people! We hope your holidays are full of love and gratitude—and we hope your tummies are full, too!
Final Thoughts on Thanksgiving Memes
This list cooked up a buffet of funny Thanksgiving memes, from the quirky to the downright hilarious.
We hope you found a hearty chuckle or two within this article. After all, laughter is a universal language, and what better time to share it than on Thanksgiving?
Here's to creating more fun memories!
And if you're looking for more fun memes to enjoy, be sure to check out these blog posts: